Striking Blue Floral Hand Painted Mirror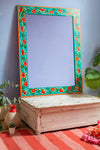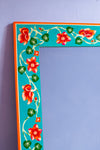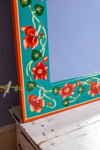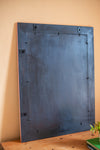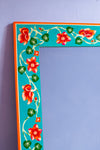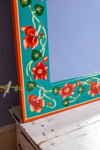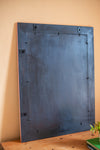 Striking Blue Floral Hand Painted Mirror
MR175
£269.00£188.30
A striking hand painted mirror featuring a gorgeous blue base and floral design.
A striking hand painted mirror featuring a gorgeous blue base and floral design.
Measurements -
W:72.5cm H:95cm
Who made this?
Employs: 33 people
Percentage paid statutory wage: 100%
Ratio working in factory/home: 80/20
✓ Paid Holiday
✓ Health Insurance
✓ Workers receive other benefits: Yes, we provide loans which all of the workers have had. Also sometimes if they don't have the funds to send them to school, we provide them.
✓ Freedom to raise concerns
✓ Health and Safety Compliant
✓ No Child or forced labour
✓ No discrimination in the workplace
✓ Women receive equal pay for equal work
Supports: When possible we donate to the orphanage
The use of harmful chemical: No, but we take all of the necessary precautions
All of our workers are very hard working and quality conscious and always want to do their best. This job is their main source of income.
How to cherish?
Wipe clean with a clean damp cloth
Delivery & Returns
This item qualifies as a: Small Furniture Item.
Domestic Distribution deliver our furniture orders and offer either a one-man or two-man delivery service depending on the weight of the item. They will carry each item into the room of your choice. Deliveries are Monday to Friday between 9am-5pm and the delivery team will contact you to schedule a convenient time for your delivery. Please ensure you provide a telephone number when you checkout to avoid delays in delivery.
Small Furniture Items - £50
Medium Furniture Items - £75
Large Furniture Items - £100
Please let us know if you wish to delay the despatch of your order within 24 hours of ordering.
Please note if you require a Saturday delivery this will incur an extra charge of £20. Please contact the sales team on 01271 858649 or email at sales@iansnow.com if you wish to arrange this.